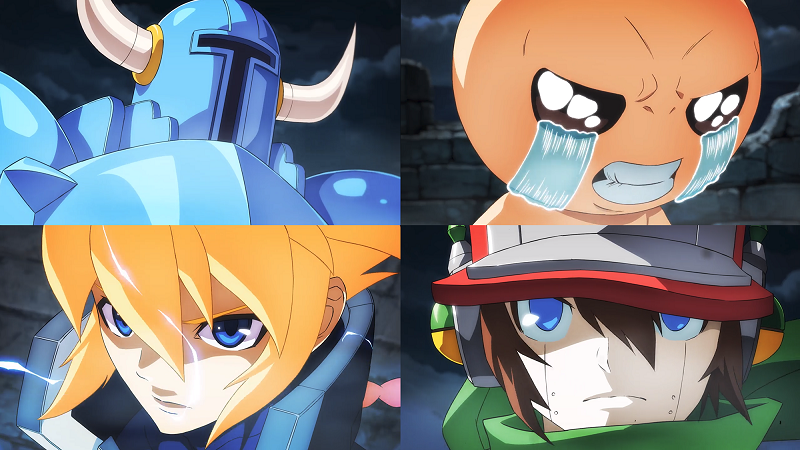 The game is called Blade Strangers, but many well-known faces will be getting in on the action when Nicalis and developer Studio Saizensen bring the one-on-one 2D crossover fighting extravaganza to Nintendo Switch, PlayStation 4 and Steam this summer. In case you missed the recent announcements, fan-favorite characters from indie blockbusters Shovel Knight, The Binding of Isaac, Cave Story+ and Gunvolt will be joining the diverse warriors from Code of Princess EX, Umihara Kawase and beyond, bringing the announced roster to 14 fighters.
Straight from Yacht Club Games' action-platformer of the same name, Shovel Knight arrives to bury opponents with his trademark digging tool. Relying on the same skills he used to battle the Enchantress and the Order of No Quarter, the blue-armored brawler can wield his shovel not only to pummel opponents, but also to launch them into the air or pounce on them from above with his famous Shovel Drop maneuver.
Meanwhile, Isaac—the perpetually weeping protagonist of The Binding of Isaac—has emerged from the basement and is ready to let others feel his pain. Isaac might not have any clothes, but he does have his tears, his mom's knife, a holy beam and many other means to bring him victory, including the ability to summon creepy critters.
Joining his Cave Story+ ally Curly Brace, the strong but silent Quote also makes his fighting-game debut in Blade Strangers. Recognized as a hero for protecting the Mimiga race from an evil doctor, Quote is a tenacious robotic soldier whose innate combat skills are further enhanced by his proficiency with both his blade and his familiar Polar Star gun.
Last but not least, Gunvolt from Inti Creates' Azure Striker Gunvolt series enters the fray. Featuring his design from Azure Striker Gunvolt 2, the titular hero uses his gifts as a superpowered Adept to overcome foes with the elemental might of electricity itself. As in his side-scrolling adventures, Gunvolt utilizes projectile weapons and can "tag" adversaries, plus he's able to make use of incredible powers such as Spark Calibur, a massive, electrically enhanced sword strike.
All four newly announced fighters will be included in Blade Strangers from the get-go, not as DLC, and each one comes complete with his own character-specific stage. You can prepare for the coming battle this summer by pre-ordering Blade Strangers now at retailers such as Amazon, Best Buy and GameStop.