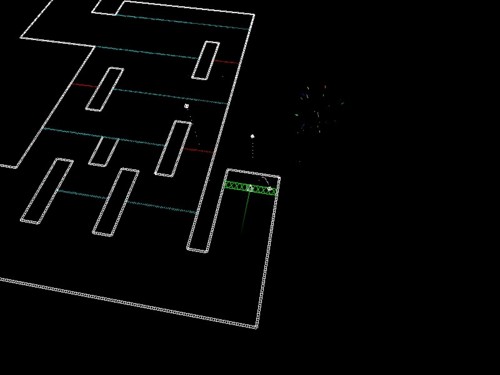 Nicalis To Publish Sophie Houlden's Vector Experience on iOS
July 2nd, 2012 - Nicalis, Inc., developer and publisher of independently awesome video games announces Sophie Houlden's tongue twistingly titled, SWIFT STITCH, bound for iOS.
Releasing July 5th, 2012 on the Apple App Store for iPhone, iPad and iPod Touch, SWIFT STITCH will be available free-to-download and play. Additional levels and modes will be available for purchase. Normally priced at $1.99 for In-App Purchase, SWIFT STITCH is on sale for launch week at .99.
SWIFT STITCH for iOS features a heavily stylized black-and-white vector aesthetic made popular in the early '80s and an ambient music soundtrack by Aeronic. Combining high-speed gameplay and minimalist game control, players must use simple and intuitive touch controls to navigate through a series of mazes by moving in every direction.
SWIFT STITCH iOS Features:
- Intuitive touch controls, tuned for iOS
- 10 levels available for free
- An additional 32 increasingly complex and awesome levels (a total of 42)
- 3 modes of play
- Achievements
- Retina Display support
Now, also as an iOS publisher, SWIFT STITCH continues Nicalis' partnerships with ultra-talented and super-awesome independent developers. Previously Nicalis has teamed up with Studio Pixel (Cave Story, Ikachan), Nicklas Nygren (NightSky), Terry Cavanagh (VVVVVV) and 8bits Fanatics (1001 Spikes).
About Nicalis, Inc.
Based in Southern California, Nicalis, Inc. is an independent developer and digital publisher with a proven track record for developing and publishing well-polished games. Founded in 2007, Nicalis continually seeks to enhance, and improve the quality of video games throughout the game industry. Nicalis, Inc. is committed to developing wildly creative and endlessly entertaining More information on Nicalis can be found via the Internet at http://www.nicalis.com and http://www.twitter.com/nicalis
About Sophie Houlden
Sophie Houlden is a prolific artist and designer based in Cambridge, England with a unique angle on experimental gameplay. Some of Houlden's previous games include Boxgame, a puzzle platformer and The Linear RPG, a minimalist story-telling experience—the latter game made in less than 48 hours.
Follow Sophie on Twitter @S0phieH or read her candid development blog at www.sophiehoulden.com
© 2012 Nicalis, Inc
© 2012 Sophie Houlden
All other trademarks are the property of their respective owners.