Greetings! This is Rob again from Over the Top Games, here to tell you more about the creation of Full Mojo Rampage. One of the unique things about Full Mojo Rampage is its voodoo theme, but it wasn't always necessarily going to be that way. As I mentioned in my previous post, I've always been a huge fan of The Legend of Zelda, so early in development we were considering making an action-adventure game in the same vein.
Our early prototype was in 2D, and it featured a lot of square rooms that were all connected, Zelda-style. The hero had a sword and other weapons like a bow and arrow, and we may have even borrowed a few 8-bit Zelda sprites to create the initial concept. As development continued, though, the visuals transitioned into 3D, and the rectangular environments evolved into something more organic. Around the same time, we decided that, as much as we love the dungeon-and-fantasy motif, it's something that's been done a lot of times by a lot of game developers, so that might not be the way to go. So we got the team all together, ordered some pizza, and began brainstorming what direction we should go.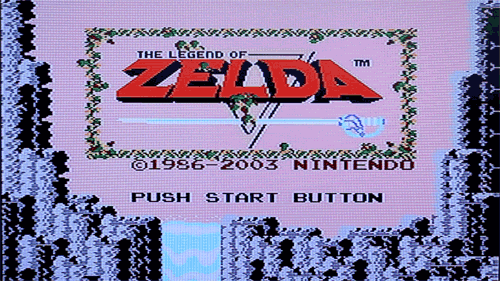 The NES classic Legend of Zelda was an early inspiration for what would eventually become Full Mojo Rampage.
We considered doing a Greek mythology theme, but we already did that with NyxQuest. It was my brother, Juan, who eventually suggested doing something based on brujeria or voodoo - something a little dark, something different from what we'd done previously. And we all thought about it for a second, and it seemed like the perfect idea. It's not something that many developers have used in video games, or that's very frequently represented in pop culture at all.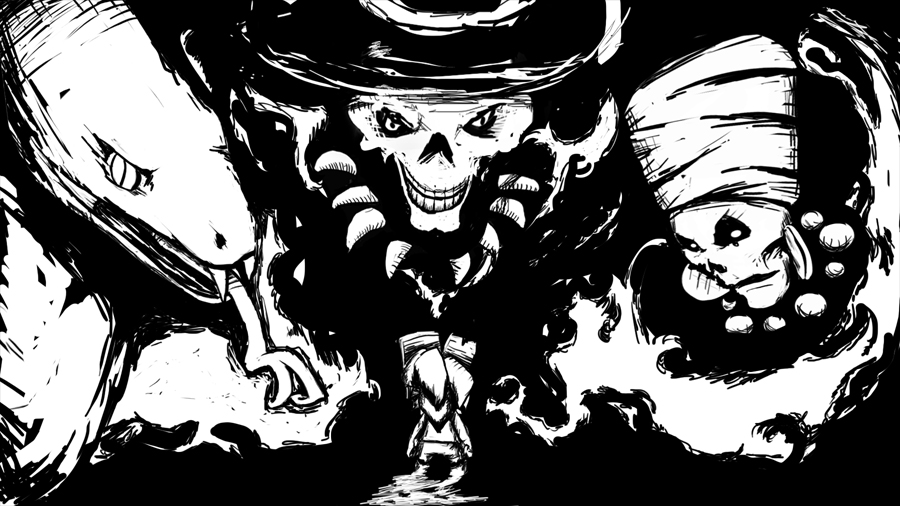 Here's some of the concept art we came up with when we began exploring using a voodoo theme for our game.
We began researching deeper into voodoo and started coming up with concept art, and we ended up turning our focus specifically toward New Orleans voodoo (also called Louisiana voodoo). Voodoo isn't just one thing; there are several types of voodoo - Haitian, South American, African - and each one is different, but we tried to draw from New Orleans voodoo as much as we could, since that's the one we were already most familiar with. (Juan was already pretty knowledgable, since he's pretty obsessed with history and religion.)
The more we learned about voodoo, the more it made sense for a game. The Loa, which are basically spirit gods of voodoo, aren't just powerful beings; they have a lot of personality, too. They like to drink, they like to smoke, and they like to party, which makes things much more interesting as elements of a game. Baron Samedi, the Loa of the dead and sort of our central character, is an especially notorious partier, so we made him kind of goofy. His wife is Maman Brigitte, another of our Loa, and she's tired of his debauchery and womanizing. We tried to work as much of that into the game as we could.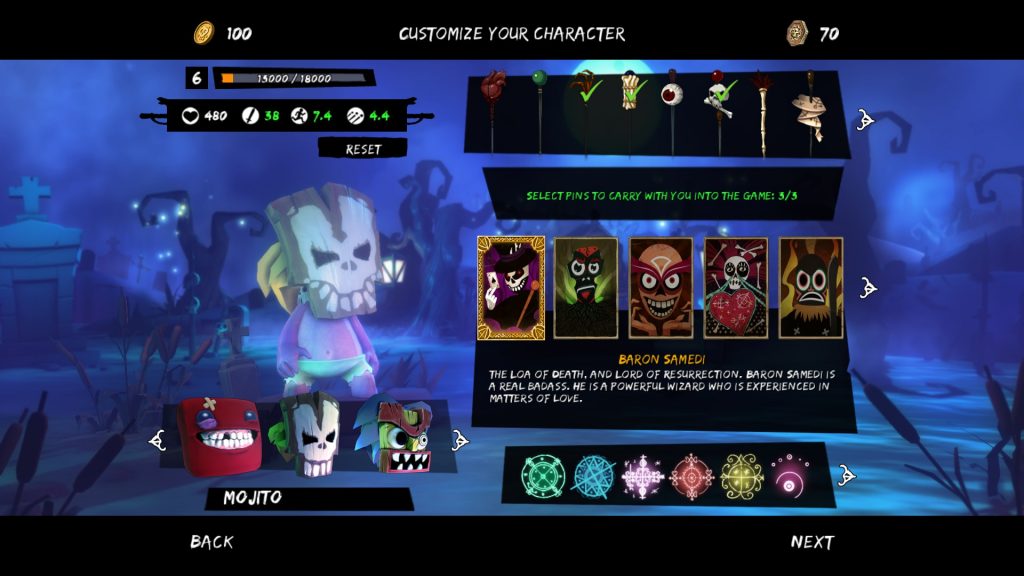 The Loa of voodoo lent themselves well to a unique and interesting video game.
In the end, I think we were able to come with something that was fun and different and a bit dark, and that works really well as a thematic complement to the kind of game that we wanted to create. Thanks for reading, and be sure to check back next time when I discuss the Loa you can use in the game!